Update 23 The Mark of Death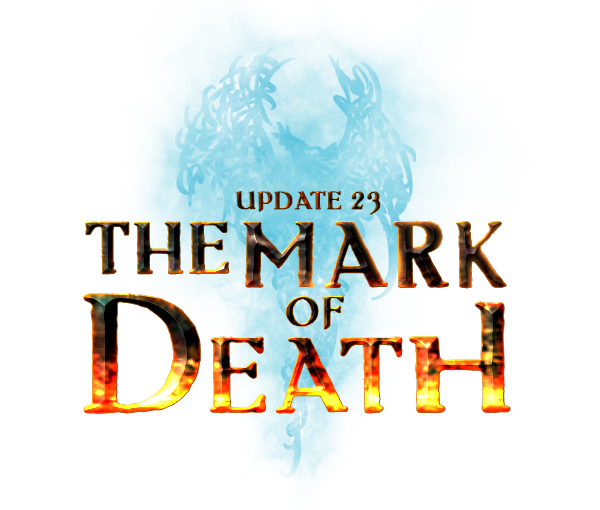 Armor up for the latest update to Dungeons & Dragons Online: Update 23, The Mark of Death! Battle the forces of the cunning lich Vol, and prevent her from invoking the ancient powers of a lost aberrant Dragonmark!
Armor Up!
Crush the forces of evil with a range of improvements to melee combat and the Paladin class! Shrug off damage in the heat of battle as it rolls off your shield and armor. Plow through enemies and deliver vicious shield attacks with the Vanguard Enhancement Tree, available for Paladins and Fighters!
 
Introducing
the Harper Agent
Be a versitile operative with the new Harper Agent Enhancement Tree, available in the DDO Store and compatable with any class. Use your intelligence to master a variety of skills and abilities. Free for VIPs!
Epic Adventures
Defy the forces of the Emerald Claw, and face their terrible master, Erandis Vol. She's half dragon, half elf, and all lich! Epic level adventures have been added to the Necropolis, Part 4 adventure pack for CR 29-30!
Explore the lush landscape of the Epic Orchard of the Macabre, with new monsters to battle, new journals to uncover, and randomized encounters!
Confront the vampiric High Priest of Vol in Epic Desecrated Temple of Vol.
Stop the creation of Flesh Golems for the army of evil in

Epic Flesh Maker's Laboratory

!
Eliminate the Doomsphere ally in Epic Ghosts of Perdition.
Defeat a powerful Cinderspawn seeking to align with dark forces in Epic Inferno of the Damned.
Interrupt a terrible ritual that could bring about the power of the Dragonmark of Death in our brand

new epic level raid

, The Mark of Death.
NEW STORE ITEMS
Mirror of Glamering and more!
Learn about the latest additions coming to the DDO Store with Update 23 by clicking here!